Beer Pong King - Taipei Blockchain Week 2022 Official Side Event | Events
2022/12/01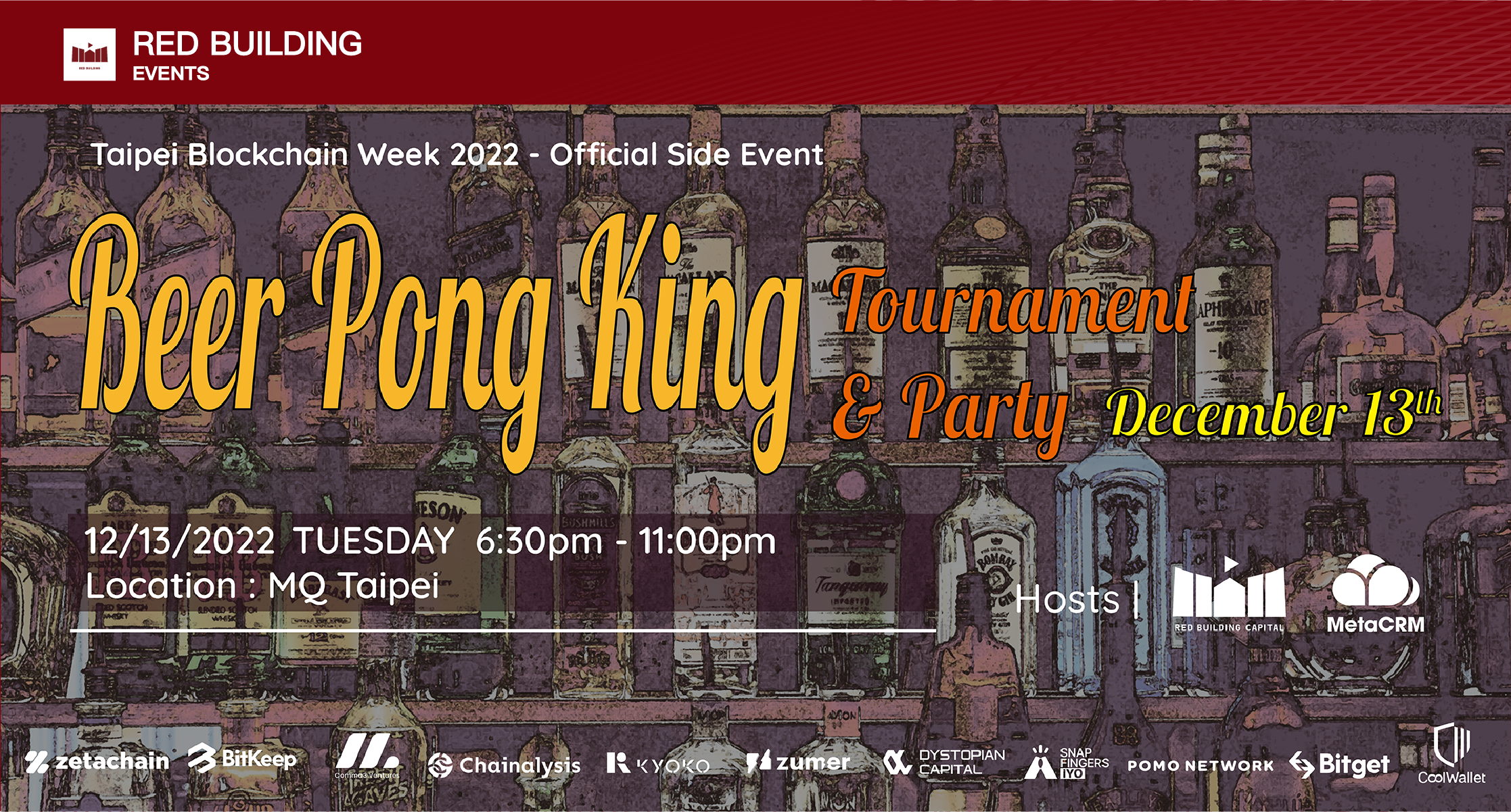 🍻 Beer Pong King 👑
Taipei Blockchain Week 2022 Official Side Event
🚩Register NOW: https://www.accupass.com/go/beerpongking
Taipei Blockchain Week 2022 undeniably will attract crypto enthusiasts from all over the world to Taipei this December. Red Building Capital is honored to host the official side event to kick off this week's festivities. Whether you would like to compete in the tournament for a shot at the "Beer Pong King" title or simply just enjoy the spectacle with a few drinks, the night will undoubtedly be one to remember.
This event is exclusive for crypto industry's leading builders and investors, is the perfect setting to mingle and connect with the brightest in the ecosystem.
—————————————————
Co-Hosts:
⚜️Red Building Capital https://www.rbcap.io/
As the earliest blockchain-focused venture fund based out of Taiwan, Red Building Capital has built up a portfolio of early-staged equity and token investments covering security, infrastructure, DeFi and Metaverse-related projects. Red Building Capital provides early capital and all-round incubation support to ensure the maximum success of projects.
⚜️ MetaCRM https://metacrm.inc/#/
Recently founded in August 2022, MetaCRM aims to become a full-suite Web3 CRM solution provider. MetaCRM team wants to make Web3 CRM better by providing a set of Blockchain-native CRM tools. Having secured $2 million on a fast-paced seed round in just a month, MetaCRM has already launched 2 products - "MetaForm" & "MetaDesk". More Blockchain-native CRM tools would be launched soon by MetaCRM to support Web3 world!
—————————————————
🗓Date: Dec 13th Tuesday 2022
🕰Time: 6:30pm-11:00pm
🗝Venue: MQ Taipei shorturl.at/cpzAO
🚕 Address: No. 16-1, Section 5, Xinyi Rd, Xinyi District, Taipei City, 110
110台北市信義區信義路五段16-1號
🎟Free admission upon approved registration
🏆Beer Pong tournament: $30USDT/team (early application)
🥇🥈🥉 First 3 places with USDT prizes!
—————————————————
Special thanks to our Partners & Supports :
🔹 MetaCRM https://metacrm.inc/#/
🔹Comma3 Ventures https://comma3.co/
🔹 ZetaChain https://www.zetachain.com/
🔹 BitKeep https://bitkeep.com/en/index
🔹 Chainalysis https://www.chainalysis.com/
🔹 POMO Network https://pomo.network/
🔹 Sumeria Labs Company https://www.sumerialabs.io/
🔹 Kyoko https://www.kyoko.finance/
🔹 Dystopian Capital https://www.dystopiancapital.com/
🔹 SnapFingers https://snapfingers.com/
🔹 Bitget https://www.bitget.com/
🔹 CoolBitX https://coolbitx.com/