Taipei Blockchain Week 2022 | Events
2022/12/11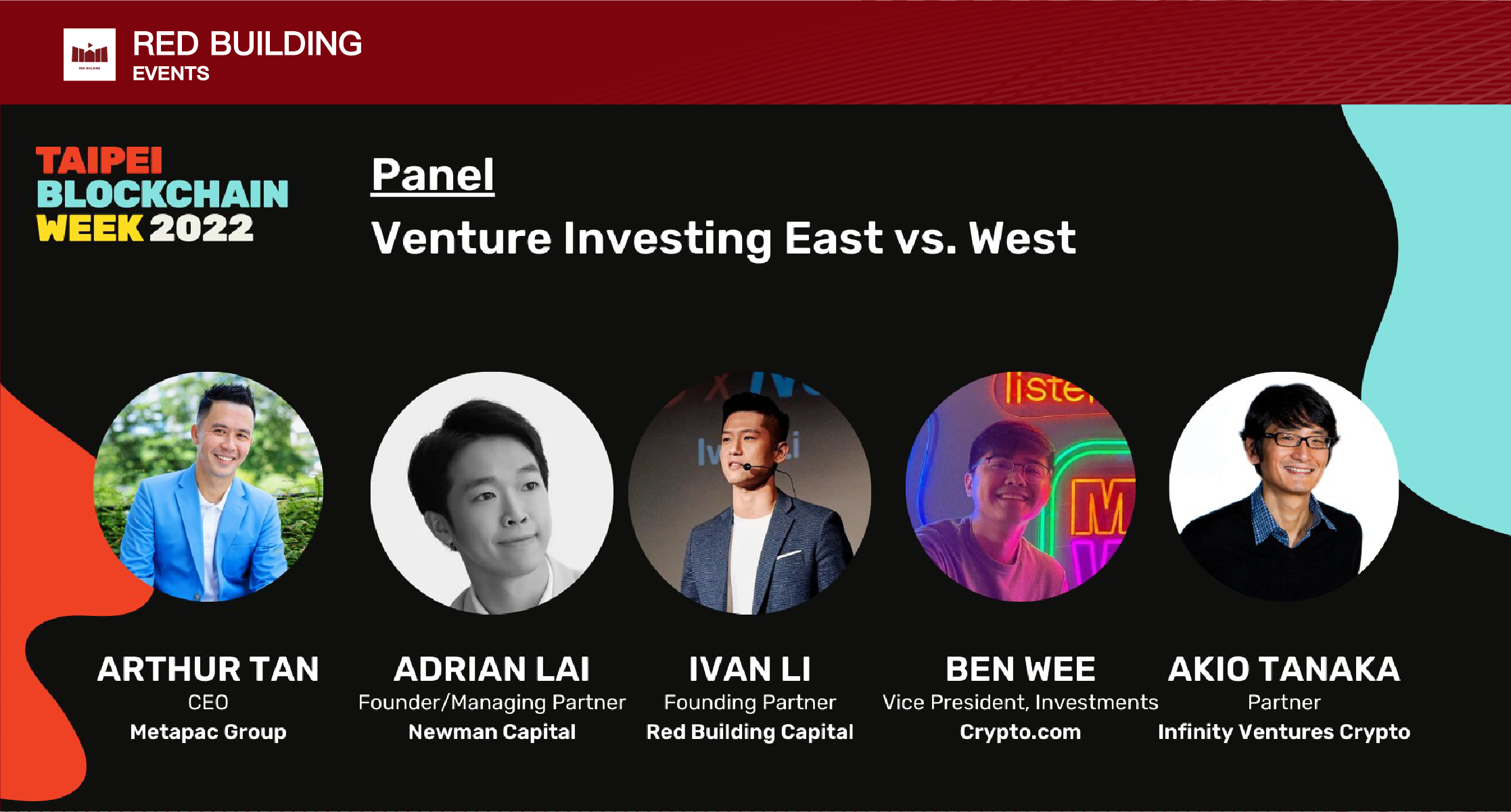 #TBW2022 Taipei Blockchain Week 2022
🔥 Check out what Red Building Capital has planned for you this upcoming week👇

#TBW Day1
Our Founding Partner Ivan Li at the Taipei Blockchain Week in Taiwan on December 12th from 1:00pm to 1:35pm, where he will be speaking in a panel discussion featuring all the renowned venture capitalists: Arthur Tan, Adrian Lai, Ben Wee, and Akio Tanaka. - Web 3.0 Venture Investing East vs. West. Definitely going to be an engaging and insightful session. Join the conversation!
Speakers:
Arthur Tan (Matapac Group)
Adrian Lai (Newman Capital)
Ivan Li (Red Building Capital)
Ben Wee (Crypto.com)
Akio Tanaka (Infinity Ventures Crypto)

---
We are honored to host the official side event on December 13th from 6:30pm to kick off #TBW2022. Whether you would like to compete in the tournament for a shot at the "Beer Pong King" title or simply just enjoy the spectacle with a few drinks, the night will undoubtedly be one to remember.
Special thanks to our Partners & Supports :
🔹 MetaCRM https://metacrm.inc/
🔹Comma3 Ventures https://comma3.co/
🔹 ZetaChain https://www.zetachain.com/
🔹 BitKeep https://bitkeep.com/
🔹 Chainalysis https://www.chainalysis.com/
🔹 POMO Network https://pomo.network/
🔹 Sumeria Labs Company https://www.sumerialabs.io/
🔹 Kyoko https://www.kyoko.finance/
🔹 Dystopian Capital https://www.dystopiancapital.com/
🔹 SnapFingers https://snapfingers.com/
🔹 Bitget https://www.bitget.com/
🔹 CoolBitX https://coolbitx.com/
Red Building Capital is co-hosting a Private VC dinner with Infinity Ventures Crypto , Newman Capital, and Cherubic Ventures on December 16th. The Dinner is a series of private invite-only events for venture capitalists and thought leaders in #TBW2022.
Given that the nature of web3 investments is borderless, it's a norm you see much more cross boundary investments in different regions. This is actually quite extensive and scalable in terms of venture growing.
The action-packed 5-day event saw some of Web3's brightest minds come together to connect with the community and explore the latest innovation throughout the industry. It showcased Asia's position as a key crypto player and showed how advanced the industry is in the region. We are super excited to be part of
#TBW2022
and open for more partnerships, to form a better ecosystem together!